What is Business Process Improvement?
Business Process Improvement is based on a term (Business Process Automation) that has been used across industries dating back to the industrial revolution. Wikipedia's definition is quite succinct: "Business Process Improvement (BPI) is the strategy a business uses to automate processes in order to contain costs. It consists of integrating applications, restructuring labor resources and using software applications throughout the organization."
MXO's development services perfectly complement BPI by creating efficiencies through leveraging integration technology to connect systems and develop applications to streamline processes.
What is a Business Process Improvement Assessment?
A BPI Assessment uncovers where Business Process Improvement can best help an organization. At MXOtech, a BPI Assessment is a low-cost, week long engagement to propose solutions to make your applications work more effectively for your core business. MXOtech consultants come onsite to interview key staff and review your applications to develop a value-stream map of how possible solutions might provide a higher return on investment of time, workflow, and resourcing. After an extensive analysis, we compose a Roadmap document with recommended approaches, including pros & cons of each. The recommended approach will be followed by a high level plan that can be executed by the client, with another vendor, or with MXOtech.
Why would you need a Business Process Improvement Assessment?
There are many reasons your organization could be a good candidate for a BPI Assessment. If you can answer "yes" to any of the following, a BPI Assessment could be your key to utilizing your resources in a better way:
Do you have an Access database that you use to keep track of data?
Do you receive information from outside sources that has to be manually entered?
Are you replacing a core software platform in your organization?
Complete the form on the right to download our full checklist or contact us today at 312.554.5699 to set up a review with our BPI specialists.
---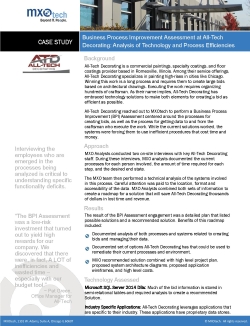 All-Tech Decorating is a commercial paintings, specialty coatings, and floor coatings provider based in Romeoville, Illinois. Among their service offerings, All-Tech Decorating specializes in painting high-rises in cities like Chicago.
Is your organization a good candidate for a BPI Assessment?
Get your FREE checklist.
LOW RISK INVESTMENT YIELDS HIGH REWARDS
The BPI Assessment was a low-risk investment that turned out to yield high rewards for our company. We discovered that there were, in fact, A LOT of inefficiencies and wasted time – especially with our budget tool.
Pat Green
Office Manager for All-Tech Decorating