Understanding what software development is and how it can fortify your business provides you with a significant advantage. As a developer, MXOtech, Inc. delivers development solutions that improve our clients' productivity.
Founded in 2005, MXOtech, Inc. has helped a myriad of companies across industries overcome their business challenges. We provide streamlined services with the goal of assisting you in reducing your operating costs. We handle all the hard work so you don't have to.
As we continue to pave the way to efficient software development for our partners, we're thrilled to announce that MXOtech, Inc. has been recognized as one of the leading software development companies in Chicago by Clutch.
Clutch is a B2B platform that helps small, mid-market, and enterprise businesses connect with the service providers they need to achieve their goals. Similarly, Clutch's sister site, Visual Objects, helps market researchers find the right partner through portfolio listings. Currently, we're listed under Visual Objects' list of top developers in Chicago.
Our Founder & CEO felt ecstatic and proud when she heard the news about the award. Here's what she has to say:
"As one of the few women-owned tech companies in Chicago, we are extremely humbled and honored to be included on this list of outstanding companies. I enjoy celebrating these types of awards with my team to acknowledge their commitment to providing excellent customer service and technology innovation. When employees are passionate about what they do, their excitement spreads both internally and externally. We strive to create a culture full of diversity and family spirit that is rewarding and fun for our employees and engaging for our clients. We appreciate Clutch for recognizing this within MXOtech."
– Joanna Mirov, Founder & CEO of MXOtech
Of course, we couldn't have done this without our clients. From the whole MXOtech, Inc. team, thank you for your unwavering trust and support.
Our most recent review details what it's like to work with us: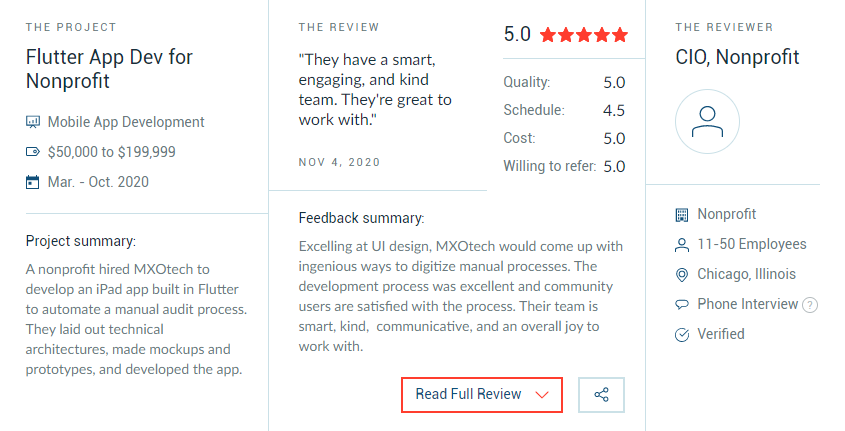 Check out the full case study to learn more.
We're always ready to help. Chat with us today to get started on your software development revolution.