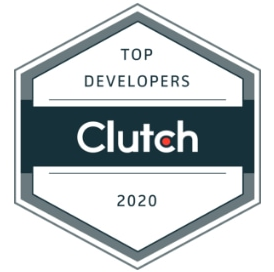 Our team at MXOtech, Inc. recently received some exciting news! Clutch analyst Amanda Finn called our CEO here in Chicago to inform us that we are ranked amongst the top SQL developers in the world for 2020, according to Clutch methodology. SQL is critical for big business, and increasingly essential for small business as more and more corporations want to interact with their product and their customers. That is why we're so honored that Clutch named us one of the best!
Clutch is located in the heart of Washington DC, just blocks away from America's Capitol. In their offices, their team of dedicated analysts take the time to independently verify each and every client review that they conduct with real clients from around the world. Their editorial team transcribes, edits, and curates the content so that you can be sure you're receiving the best possible work.
"In today's fast-paced digital world, keeping on top of new technologies and developments is critical for a company's success," remarked Clutch Business Analyst Amanda Finn. "The companies selected as Clutch Leaders stand out not only for their industry expertise but also for their ability to listen to their clients, understand the audience, and become familiar with their customer's unique brand and needs."
We are proud to highlight our 4.6-star average on Clutch.co. In a recent five-star review, the applications manager of public power company, Cowlitz PUD, highlighted our ability to create value when we rewrote and installed an integration framework extension for the public utility district.
"MXOtech allocated the right resources and provided documentation well in advance, which helped them guide solutions." – Brent Bradley, Applications Manager at Cowlitz PUD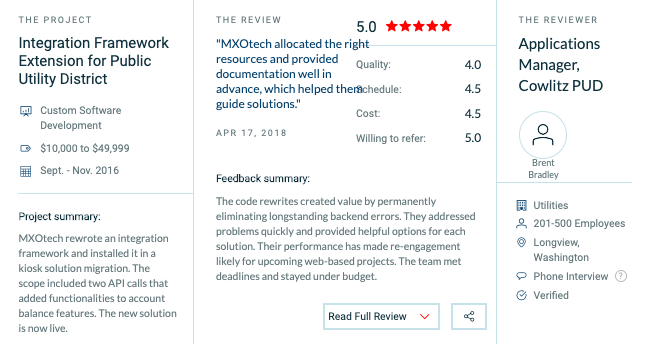 "I am thankful for the success brought by our team and clients over the last 15 years. It's my honor to have been chosen as one of the leading web developers in Chicago by Clutch. We look forward to continuing to serve our business community." – Joanna Mirov, CEO at MXOtech, Inc.
Contact us today to see how you can join our legions of satisfied customers!
312.554.5699
sales@mxotech.com