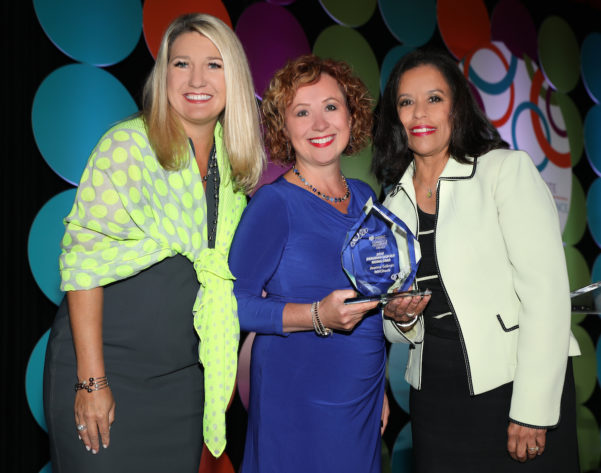 MXOtech, Inc. honored at the Women's Business Development Center Signature Conference: Connect and Celebrate
CHICAGO – On September 6th, the Women's Business Development Center (WBDC) presented Joanna Mirov, CEO of MXOtech, the Deborah Sawyer Rising Star Award.
The Deborah Sawyer Rising Star Award is a distinction given to visionary woman business owners who lead the charge on creative, solution-oriented, and cutting-edge business processes.
"Joanna is the epitome of a Rising Star," said Emilia DiMenco, President and CEO of the WBDC. "Joanna and her team have built a visionary company, bringing together application development and managed services, creating a new category, and serving an unmet market. Under her leadership, MXOtech has grown exponentially while retaining many of their original customers since inception. Joanna and her team have worked closely with the WBDC to provide educational opportunities for other small business owners in the important area of cybersecurity."
Sobran immigrated to the United States from Poland when she was 11 years old and began her career at a growing company that was transitioning from typewriters and paper forms to computers and applications. Observing this transition was the impetus for founding MXOtech, which opened in 2005. Today, MXOtech supports over 60 clients with network monitoring, building and hosting business applications, managing IT security, and strategic technology planning. Under Sobran's leadership, MXOtech has seen consistent growth since its inception and has been recognized as an industry leader by Inc Magazine, MSPmentor, The Channel Company, and others.
"The support we have received from the WBDC and other women business owners I've met through the WBDC has been remarkable," said Sobran. "We are proud to be a part of an extraordinary network of powerful women."
This award is part of the WBDC's annual signature event, Connect & Celebrate, bringing together aspiring women, minority, and veteran business owners to provide business development and education opportunities. Each year, the WBDC honors outstanding businesswomen and men who have not only succeeded personally but contributed to the economic development of their community. Award winners are identified by an awards committee consisting of WBDC board members, internal staff, and various committee members. Sobran and MXOtech were celebrated alongside four other individuals and organizations making a difference in the business community.
About the WBDC
Since 1986, the Women's Business Development Center's mission has been to support and accelerate business development and growth, targeting women and serving all diverse business owners, in order to strengthen their participation in, and impact on, the economy.
About MXOtech, Inc.
MXOtech, Inc. is a women-owned Chicago-based IT consulting company. They focus on providing the mid-size market with managed services and customer software development.