by Joanna Mirov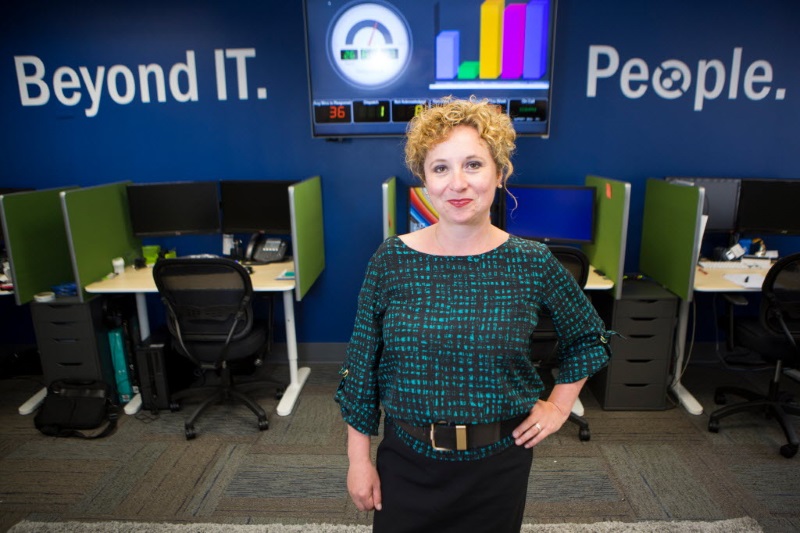 One of my favorite people is Nido Qubein. For those of you who don't know, he's a businessman, motivational speaker, and the President of High Point University in High Point, North Carolina. Nido places extreme importance on providing his students and their families with extraordinary experiences. When I visited High Point University, I attended a presentation from Nido and he used the comparison of Godiva versus Hershey to illustrate the importance of creating value for a business.
Nido pointed out that a bag of Kisses is four dollars, but a box of Godiva is forty dollars, or ten times more expensive. Both are a pound of chocolate and both taste good. But the difference is that people buy Hershey's Kisses to eat and they buy Godiva chocolates to give. They are not buying chocolate, they are buying an experience.
Often, companies put culture and customer service on the backburner, or they only give it minimal time and resources because it can "wait until later". In reality, these two components should be given top priority as they can impact every facet of your organization – from the mood of your employees to the experience of your customers.
Here's a list of ways we've made the customer service experience a top priority at MXOtech and how you can too:
Build Customer Service into the Culture.
A few years ago, all our employees got together to talk about what was important to them. What were we all passionate about? What makes a great employee? Who do we want to work with? We transformed all this information into our Core Values. They became a mantra of who we are and how we work. We recognize each other for demonstrating them. We've created a "Culture Committee" to help bring our core values to life in our day-to-day. We listen to what our employees want and how we can bring our MXO culture to our clients. Our Culture Committee and Leadership Team recently worked together to update some of them based on how we've grown and matured. At MXOtech, we live by these:
Walk with Purpose
Assume the Best Intentions in Everyone
Family Spirit
Let Them Feel Your Smile
Sense of Urgency
Why is it so important to have great core values that resonate with your team? Because amazing people want companies with a great culture. Customers want great service.
Better moods and better employees = better performance and happy customers.
Never Send Your Clients to Voicemail.
Voicemail is programmed, impersonal, and the opposite of reassuring. If a client is calling your customer service department with a frustrating problem, the last thing they want is voicemail. Voicemail can leave the impression that you're not dedicated or serious enough about servicing customers. And you cannot afford to make your customers feel like they're being taken for granted, because word travels fast in small communities. Once you get a bad reputation, it's difficult to rebuild your tarnished name. At MXOtech, you will never go to voicemail. We've implemented 24/7 live call answering because it's important to our Managed IT Services clients. While this may be a long-time investment, it shows our commitment to our customers, and it no doubt helps us to retain them.
Meticulously Measure Every Relevant Metric.
Unlike a lot of companies, we WANT people to call our helpdesk. The more we hear about the computer troubles our clients are having, the better we can get on top of them. We thrive when we are talking to and helping our customers solve their issues. To make sure we're delivering the fast, reliable service that we guarantee, we have large screens throughout our office which display real-time data of our helpdesk team and client's networks. For example, at one quick glance, our Service Manager can see how many client tickets we have open and what the response time is. That way, if we notice our response time is creeping up to an amount of time we're unhappy with, we can remediate the issue BEFORE it affects our clients. Transparency keeps us honest and on top of our game.
Check-In with Your Clients. Often.
We ask all our customers to rate their experience with us after completing a ticket. But that's not what I'm talking about here. I'm saying go beyond that. Some customers may give positive feedback, but they're not necessarily content with your business or services. Instead, before the service call ends, tell them they'll have the chance rate their experience, which will give them a sense of duty to reply. Then, leverage the satisfaction survey to probe deeper customer issues. For example, bring up a common challenge your clients often experience and ask them if they're experiencing it too. In addition to the email reviews, proactively check up on customers to monitor their journey with your company. At MXOtech, we have a Customer Experience Manager (CEM) that talks to our clients on a regular basis to review their day-to-day IT services. We also have a Technical Account Manager (TAM) assigned to every client which helps them to plan their IT strategy and budgeting. Whether it is on a video conference with our CEM or in a Quarterly Technology Review with our TAM, we're asking our clients: Are they still enjoying our services? What other add-on products or services would make their experience better? We review their account and make recommendations on technology solutions that are going to help them grow their business.
A lot of your competitors would love to have your clients' business. Don't give them a reason to look elsewhere. I'd bet that you're investing in marketing efforts to bring consumers through your doors. Don't forget about the clients you already have and the importance of keeping them. It costs significantly more to attract new customers than it does to take care of the ones you already have. Building customer service into your culture and keeping them engaged will not only keep them happy but turn them into raving fans.
Do you have a brilliant idea you've implemented at your company that goes the extra mile with customer service? I'd love to hear about it in the comments section below.
Other blogs you might find helpful:
If you are looking for a new technology partner that is customer-obsessed, MXOtech is here to help. We are your reliable managed IT services partner providing IT consulting in the Chicago area. Contact us today.