Implementing a cybersecurity training program may not be at the top of your to-do list right now, but it should be. Just before 2018 ended, a cyberattack paralyzed the operations of major newspapers in the country, including that of The Chicago Tribune. If big companies with their capable IT departments aren't immune to such attacks, then how would small- and medium-sized businesses (SMBs) stand in the face of widespread malware attacks and phishing scams?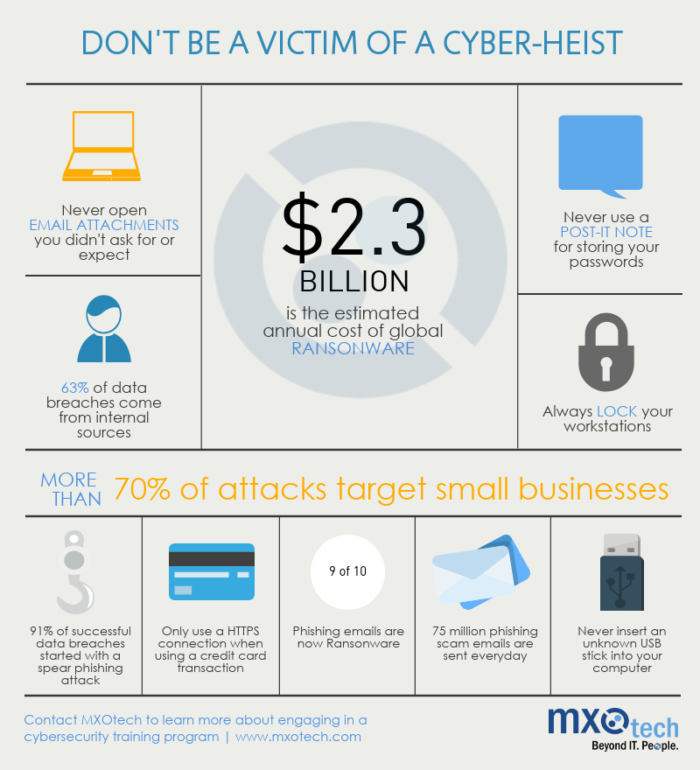 If you want to protect your business, you need to cover all your bases. Don't rely solely on antiviruses and anti-phishing technologies but also acknowledge the role human error, lack of knowledge or negligence play in these cyberattacks. Technology and human resources must complement each other to keep your company safe from data or information breaches. The best way to do that is by implementing a cybersecurity training program, a series of activities that will orient employee and staff about the specific actions they can do to prevent a cyber disaster from happening.
But if you're going to do a cybersecurity training for the sake of doing it, or for meeting industry requirements, then you've already failed. Make your training effective and meaningful by doing the following:
1. Gamify your training -- Set up a reward system where people who display positive cybersecurity behavior are incentivized. For example, you can give out cards to be stamped every time employees reach a security milestone, like the 1st, 20th, and 100th email they send without security risks. They can exchange the stamps for gift cards or simple office items. People like it when they are recognized for their efforts, and the positive experience will encourage them to continue being vigilant.
2. Make it natural -- If you do cybersecurity training once or twice a year, it becomes an event, and might get perceived as a standalone matter that begins and ends within the training period. Consider building a culture of security in your business instead; for instance, you can include cybersecurity training in your onboarding process. Moreover, you can also encourage employees to incorporate the habit of reading modules about spam, phishing, and social engineering before they begin their daily work.
3. Make it often -- Cyberattacks are evolving and phishing scams are getting more sophisticated, so your training should take into consideration the changes in the technology landscape. Continuously review and revise your training materials and objectives to make sure that they are still up to date and accurate. Be careful to avoid using recycled or repeated images, as people tend to skip over them after a while, thinking that they already know what's written on them even if you've rolled out a new campaign.
4. Encourage employee engagement -- Make people feel integral to the process of keeping your data secure, because they are. Consult with employees to find out what they already know and what they don't. Let their knowledge and limitations help you identify the weakest links in your security, and guide you on how to fortify them. After all, people don't like to feel ignorant, and teaching them things they already know may seem like you're talking down to them.
5. Make it real -- Simulate cyberattacks to get everyone prepared for the real thing. Conduct a "live fire" training, where you deliberately try to phish people in your company. Intelligent business solutions specializing in security training can help you achieve this goal. They have a database of over 2,100 phishing templates you can use to bait your employees, as well as tracking tools that monitor which employee fell prey to certain attacks. Using the data gathered by these tools, you can further modify and customize your cybersecurity program to make it more effective.
6. Don't go too big -- If you go all out with your cybersecurity training, you might overwhelm employees. Set goals that are attainable, measurable, and impactful. Go from goal to goal instead of trying to do implement all security measures at once. You can start with basic training, like how to filter emails for malicious content, then go to more advanced topics, such as how to spot a voice phishing scam.
If you need a hand in conducting your cybersecurity training, MXOtech is here to help. We are your reliable IT support and managed services provider in the Chicago area, offering complete and efficient cybersecurity solutions. We've also partnered up with one of the the industry leaders in cybersecurity awareness training, to ensure that your employees will not suffer data breaches due to human error. Contact us today to find out more.
Despite an abundance of cybersecurity measures at their disposal, businesses continue to make cybersecurity mistakes, making it easier for cybercriminals to infiltrate networks and steal data. Read our comprehensive post below and learn how to prevent the most common mistakes that can jeopardize your business data.