By: Steve Feldman, CFO at MXOtech
Are IT functions eating up valuable time and resources? Do you struggle to justify the value of your technology investments?
As Chicago organizations place more focus on technology innovation to stay competitive, finance executives play an increasingly important role. They're responsible for ensuring processes, people and infrastructure meet today's needs and tomorrow's opportunities.
These tasks include:
Balancing growth, risk and performance
Collaborating with sales and operations
Increasing regulatory requirements
Strategic planning, budgeting and reporting
If your Chicago business is looking to reallocate time spent on IT to business growth initiatives, selective IT outsourcing may be your solution.
Selective IT outsourcing
Selective IT outsourcing involves hiring a third-party IT support partner to manage key IT activities. Outsourcing enhances productivity across your IT department and ensures your existing staff can focus on their areas of expertise.
Let's discuss four key steps for selecting the best Chicago IT outsourcing partner and making the most of your IT investments.
Step 1: Evaluate what you have and what you need
When considering a potential IT outsourcing relationship, the first step is to assess your current IT infrastructure and define business goals. Thoroughly document your current IT processes, capital and resources to uncover performance gaps.
Auto-discovery tools can help you review the assets, software and hardware already in place and how they're used today. This will expose potential gaps and needs that you may want to allocate budget toward.
To further understand gaps and optimize IT spending, also evaluate your IT workforce capacity. Thanks to growing dependence on cloud computing and information security, increasing technology demands might be spreading your IT team too thin.
It's nearly impossible to get the depth of knowledge required to achieve business alignment, introduce best practices, manage ongoing technology, solve new IT issues and maintain network integrity.
Prioritize skills for these core IT functions:
Network management
Web application development
Equipment repair
User support/help desk
Planning and budgeting
Strategic business/technology alignment
With so many skills required, training internal IT staff is expensive. And in many cases, managers are looking for their staff to wear many hats, despite having limited skill sets. Outline areas your team could benefit from additional manpower.
Here's a complete look at the skills and roles involved in a comprehensive internal IT department: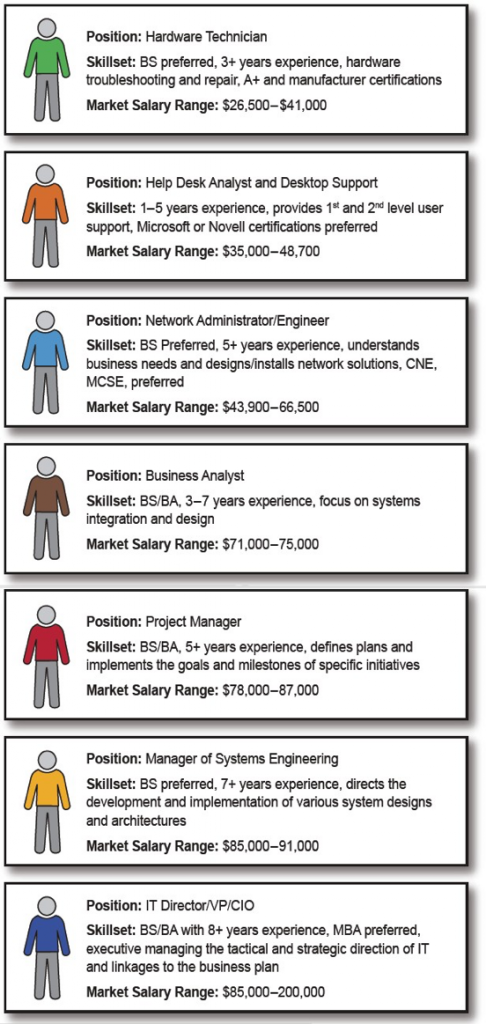 (Note: Salary ranges are for the Chicago area and provided by www.glassdoor.com)
Step 2: Identify a strong Chicago IT outsourcing partner
Your outsourcing partner should offer more than just technical support. They need to align with your defined business goals and share your vision of success.
When vetting IT partners, look for these top indicators of long-term IT outsourcing success:
Ensure an established pricing and delivery model is in place. IT should be flexible to changing business needs without sacrificing service quality and commitment.
Verify that the outsourcing firm can do more than reduce costs. Your IT partner should have the business acumen to integrate technology into business processes for greater productivity and future success.
Establish strong communication and consistent reporting. Make sure the IT firm holds its team accountable to key performance metrics and consistently reports on progress toward your shared goals. They should be transparent and communicate openly about setbacks and issues. Always ask for references, and seek a partner whose customers speak openly about their relationship.
Ensure the firm has documented processes for auditing technology and implementing new services. Review these documents, and meet with multiple team members to confirm staff adheres to these processes.
Evaluating IT support pricing models
Pricing models vary based on the level of results promised. Ensure you clearly understand the accountabilities. The pricing model and related risk sharing are integral to the overall engagement success.
Fixed-price model: IT support companies that offer a fixed-price model place a stake in the ground and are held accountable for results. These organizations typically have more mature best practices for network management and user support functions.
Time and materials pricing: Pricing models based on hours don't result in real accountability. These include time and materials, a block of hours, a fixed fee for a maximum number of hours, scheduled time onsite only on certain days, etc. Because these IT firms profit off your IT issues, they don't incentivize efficiency and won't maximize your IT budget.
While many great IT companies exist in Chicago, most are not true "outsourcing" solutions. Be wary of IT support companies that care more about staff augmentation and hourly support packages than sticking to a project timeline. Pay-as-you-go approaches do not often result in the time savings that a finance executive needs – just a small shift in payroll dollars.
If your business relies on technology networks and applications, look for IT providers that deliver results and accountability — not just a set list of IT tasks.
Step 3: Establish a strong relationship during onboarding
Relationship building is the most important factor in an outsourcing agreement. Service level objectives and expectation issues are much easier to manage than soft issues like people and communications management. If you don't have an open and consistent dialogue with your outsourcing firm, your business objectives will stall.
Remember these key onboarding activities:
Communicate openly with your outsourcing partner. Outsourcing is a two-way street; both parties put much at stake. Make sure the organization you choose has leadership experience transitioning customers into their model. Allow reasonable time for both sides to understand responsibilities and learn new processes, especially if you're transferring accountability to the outsourcer.
Be transparent with your IT staff. Internal resistance is always possible when implementing a change in IT management. Consistent and transparent communication is key to streamlining the transition. Communicate openly with your IT staff about the partnership benefits. Selective outsourcing allows your employees to focus on innovation and growing the business instead of being bogged down by time-consuming processes.
Related content: What onboarding reveals about your Chicago managed services provider
Step 4: Prioritize business intelligence
Business intelligence helps connect your IT investment to results.
Having access to data that reflects real operational costs and actual service levels is vital. Your vendor should take the initiative to share key data consistently.
All information and reporting should be informative and actionable. It must link key issues to the business goals and provide an understanding of the cost drivers and limitations of the operational processes.
Technology is more integrated into business processes than ever. You need to establish a solid framework for business intelligence to make proper and economical decisions. Companies lose control when they lose understanding of the cost drivers and process limitations involved in moving the business forward.
On the other hand, don't accept raw data, leaving your financial team to do the true analytical work that an outsourcer is better positioned to evaluate.
Choosing a Chicago IT outsourcing partner
With increased job responsibilities, CFOs know they need all the help they can get. Selective IT outsourcing will free up valuable time and deliver meaningful results from IT investments.
Do you need an outsourcing partner to help you manage key IT functions? MXOtech has helped hundreds of Chicago businesses control costs and gain control of their technology with custom managed IT services plans.
Stop stressing over IT. Contact us today to learn more about MXOtech's managed IT services.